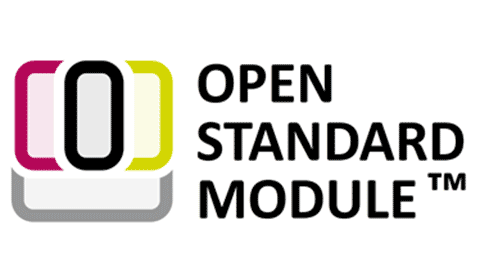 Download of
Specifications & Documents
In order to download standard-related documents, you need to fill in your email address and accept our Terms of Use along with our IPR Policy.
Open Standard Module (OSM) // SDT.05
The idea of all Open Standard Modules™ is to create a new, future proof and versatile standard for small-size, low-cost embedded computer modules, combining the following key characteristics:
Completely machine processible during soldering, assembly and testing
different possible packages for direct PCB soldering without connector
Pre-defined soft- and hardware interfaces
Open-Source in soft- and hardware
The Open Standard Module™ specification allows developing, producing and distributing embedded modules for the most popular MCU32, ARM and x86 architectures. For a growing number of IoT applications this standard helps to combine the advantages of modular embedded computing with increasing requirements regarding costs, space and interfaces.
Solder-on Module Standard
The Open Standard Module specification is the first Open Standard for solderable BGA mini modules. It is not a replacement for exisiting connector-based modules, but an enhancement to existing standards and solutions. For one thing, OSM modules are significantly smaller than previously available modules: Even the largest OSM module, measuring 45x45mm, is 28% smaller than the µQseven (40x70mm), a standard also hosted by SGET, and 51% smaller than SMARC (82x50mm). SMARC, by comparison, specifies 314 pins and Qseven 230. This means that BGA design makes it possible to implement significantly more interfaces on a smaller footprint – which is groundbreaking, both in terms of miniaturization and the increasing complexity of requirements, and constitutes another unique advantage of the new OSM standard.
What makes OSM special are the different sizes of the standard:
Size-0 (Zero): with 188 BGA pins on 30 mm x 15 mm
Size-S (Small): measures 30 mm x 30 mm with 332 pins
Size-M (Medium): offers 476 pins on 30 mm x 45mm
Size-L (Large): measures 45 mm x 45 mm with 662 BGA pins
Features & Advantages
The interfaces vary in type and design depending on the size of the Open Standard Module. Modules from Size-S upwards offer video interfaces for up to 1x RGB and 4-channel DSI. Size-M modules can additionally support 2x eDP/eDP++, and Size-L adds 1x LVDS interface for graphics. So all in all, maximum configurations can provide up to 5 video outputs in parallel. All modules from Size-S upwards further offer a 4-channel Camera Serial Interface (CSI). Size-L modules provide up to 10 PCIe lanes for quick connection of peripherals; Size-M offers 2x PCIe x1, and Size-S 1x PCIe x1. In view of their extremely miniaturized footprint, Size-0 modules do not feature any of the I/Os mentioned so far, but offer all the interfaces listed in the following. The OSM specification provisions up to 5x Ethernet for system-to-system communication. In addition, all modules have what is called a communication area, providing 18 pins for antenna signals for wireless communication or the integration of field buses. Next, there are up to 4x USB 2.0 or 2x USB 3.0 (only in Size-L), up to 2x CAN, and 4x UART. Flash storage media can be connected via UFS. Up to 19 pins are further available for manufacturer-specific signals. Finally and to complete the feature set, there are up to 39 GPIOs, SPI, I2C, I2S, SDIO and 2x analog inputs. As a safeguard for the future and to ensure that any future expansions are backward compatible, up to 58 pins are reserved for future purposes.
If you are interested in more detailed information, we recommend downloading the specification as well as the design-guide.