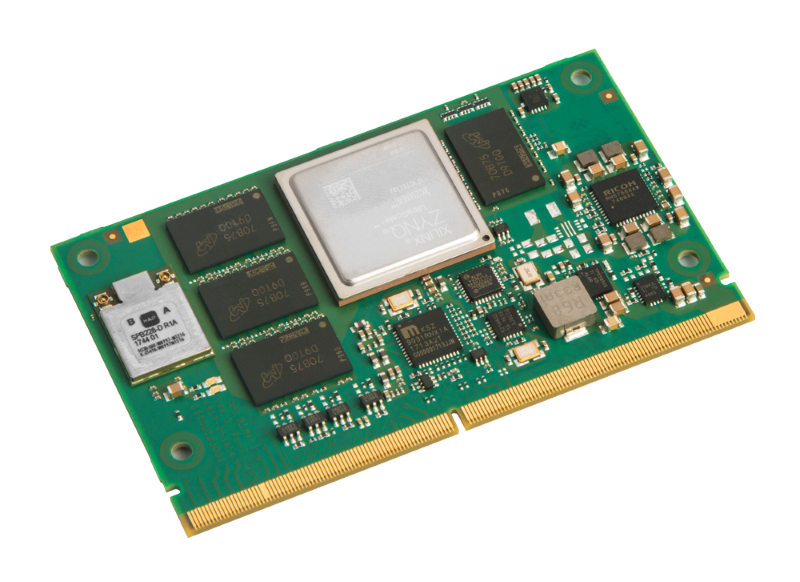 Manufacturer:

Avnet Embedded
Xilinx Zynq UltraScale+ MPSoC
The MSC SM2S-ZUSP module is based on Xilinx Zynq UltraScale+ MPSoC and supports ZU2, ZU3, ZU4 or ZU5 FPGA complexity.
Zynq UltraScale+ MPSoC devices provide 64-bit processor scalability while combining real-time control with soft and hard engines for graphics, video, waveform, and packet processing. Integrating an ARM®-based system for advanced analytics and on-chip programmable logic for task acceleration creates unlimited possibilities for applications including 5G Wireless, next generation ADAS, Internet-of-Things, Industrial Automation, Medical, Transportation and Robotics.
MSC SM2S-ZUSP offers dual-core or quad-core ARM Cortex™-A53 processors in combination with dual ARM Cortex-R5 real time processors and ARM Mali™-400 GPU. It provides DDR4 SDRAM with optional ECC, dedicated DDR4 SDRAM for the Programmable Logic, up to 64GB eMMC Flash memory, Dual Gigabit Ethernet, PCI Express, USB 3.0, an on-board Wireless Module as well as an extensive set of interfaces for embedded applications.
The module is compliant with the new SMARC™ 2.0 standard, allowing easy integration with SMARC baseboards. For evaluation and design-in of the SM2S-ZUSP module, MSC provides a development platform and a starter kit. Support for Linux is available (Android support on request).
Eilyn Kadow
2022-04-03T16:57:08+02:00