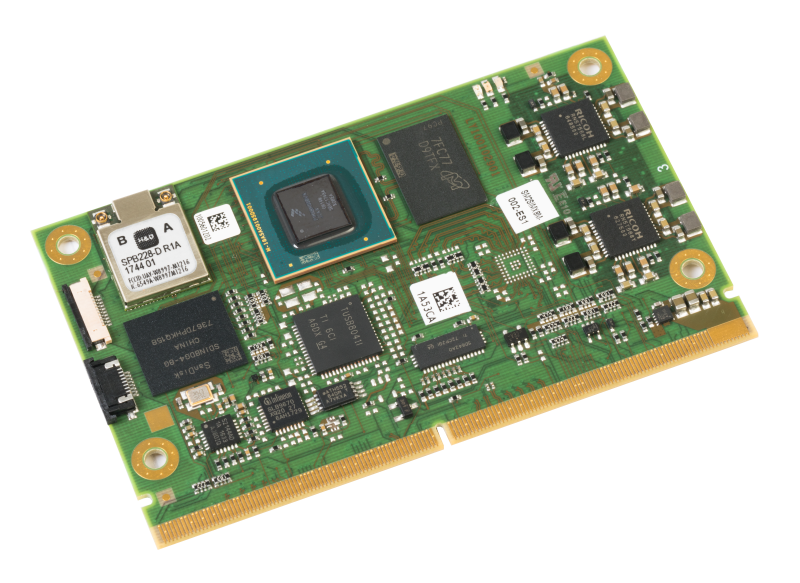 Manufacturer:

Avnet Embedded
NXP i.MX 8M ARM Cortex-A53
The new MSC SM2S-IMX8M module features NXP's i.MX 8M processors offering dual- and quad-core ARM Cortex-A53 compute performance at very low power consumption and excellent graphics performance combined with a high degree of functional integration.
Built with best in class audio, voice and video processing technology, the NXP i.MX8M Family of Aplications Processors is ideally suited for Media IOT and industrial applications such as Video, Voice and Audio for Connected Devices, Smart Home as well as HMI, Voice and Vision for harsh enviroments.
MSC SM2S-IMX8M offers dual-core or quad-core ARM Cortex-A53 processors in combination with ARM Cortex-M4 real time processor and Vivante GC7000Lite 3D Graphics GPU. It provides fast LPDDR4 memory, up to 64GB eMMC Flash memory, Gigabit Ethernet, PCI Express, USB 3.0, an on-board Wireless Module as well as an extensive set of interfaces for embedded applications.
The module is compliant with the new SMARC™ 2.0 standard, allowing easy integration with SMARC baseboards. For evaluation and design-in of the SM2S-IMX8M module, MSC provides a development platform and a starter kit. Support for Linux is available (Android support on request).
Eilyn Kadow
2022-04-03T17:00:08+02:00