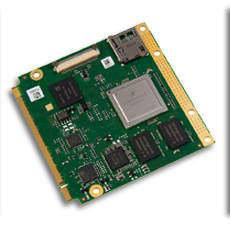 Manufacturer:

Avnet Embedded
NXP™ i.MX6 ARM® Cortex™-A9
The design of the MSC Q7-IMX6PLUS module was optimized to provide an especially economic platform for NXP's i.MX6 and i.MX6Plus CPUs offering quad-core, dual-core and single-core ARM® Cortex™-A9 compute performance at very low power consumption and excellent graphics performance combined with a high degree of functional integration.
The MSC Q7-IMX6PLUS CPU Module provides a choice of computing performance ranging from economic single-core to high-performance quad-core power in combination with a high graphics performance and low power consumption available over a wide temperature range.
It incorporates the i.MX 6 (Solo, DualLite, Dual or Quad) or the i.MX 6DualPlus or 6QuadPlus processor with up to 1.2 GHz, up to 4GB DDR3 DRAM and up to 64GB eMMC Flash memory as well as an extensive set of interface controllers. The module provides the new Qseven Rev. 2.0 interface, allowing easy integration with Qseven baseboards.
For evaluation and design-in of the Q7-IMX6PLUS modules, MSC provides a development platform, target platform and a starter kit. The MSC Q7-IMX6PLUS module is supported by Linux and Windows Embedded Compact 7 and 2013 (Android on request).
martinunverdorben
2022-04-03T14:45:06+02:00