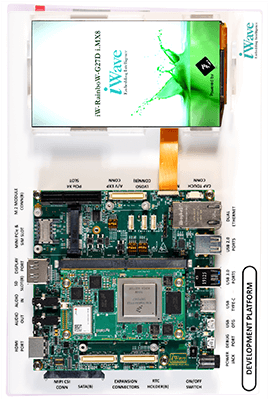 Manufacturer: iWave Systems Technologies Pvt. Ltd.
i.MX 8 QM/QP SMARC Development Kit
The i.MX 8 QM/QP (Quad Max/Quad Plus) SMARC Development platform combines the NXP i.MX 8 QM/QP application processor based SMARC SOM and iWave's Generic SMARC Carrier Card to offer maximum performance with higher efficiency for complex consumer, medical and industrial embedded computing applications. The board is highly packed with all necessary onboard connectors to validate i.MX 8 QM/QP SoC features to the fullest.
APPLICATIONS: Intelligent Industrial Control Systems, Industrial Human-Machine interface, Ultra-Portable Devices, Home Energy Management Systems, Portable Medical Devices, 4K Digital Signage, Media streaming, Augmented & Virtual Reality, Home Automation & Entertainment, Drones, Secure POS and Video analytics.
Gigabit Ethernet Jack x2
PCIe X1 & Mini PCIe slot
SATA 22pin x1
USB 3.0 Type-A & Type-C
USB 2.0 Host Type-A x2
USB 2.0 OTG Type-micro AB x1
Standard SD x1
HDMI2.0/DP1.3 x1
5.5" 1080p MIPI DSI display with Capacitive Touch
20pin LVDS Connector
OV5640 MIPI CSI Camera Connector
Audio In/Out Jack through I2S Codec x1
Full Function UART – 1 Port
RTC with backup battery
CAN Header x2
Debug UART through Micro USB Port
Eilyn Kadow
2020-11-29T18:46:08+01:00