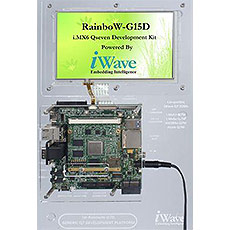 Manufacturer: iWave Systems Technologies Pvt. Ltd.
i.MX6 Qseven Development Platform
The i.MX6 Qseven Development Board incorporates Qseven compatible i.MX6x SOM which is based on Freescale's i.MX6 Series multimedia focused processor and Generic Qseven compatible Development Board. This platform can be used for quick prototyping of any high end applications in verticals like Automotive, Industrial & Medical. Being a nano ITX form factor with 120mmx120mm size, the board is highly packed with all necessary onboard connectors to validate complete i.MX6 CPU features.
martinunverdorben
2018-09-22T13:35:28+02:00