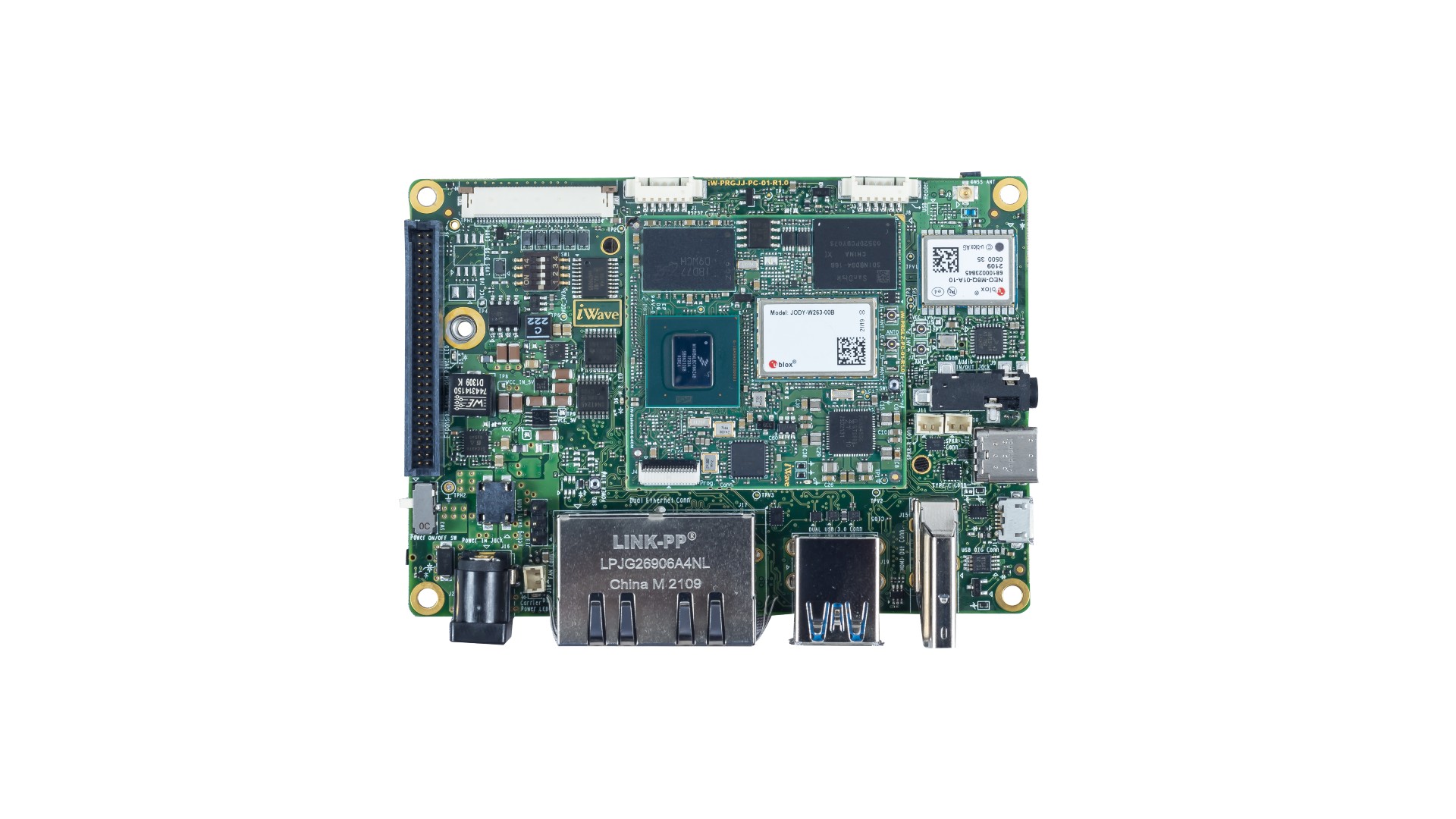 Manufacturer:

iWave Systems Technologies Pvt. Ltd.
Type:

Single Board Computer
The i.MX 8M Plus Pico ITX SBC integrates NXP's i.MX 8M Plus offerings Quad/ QuadLite /Dual Cortex A53 @ up to 1.8GHz, NPU with up to 2.3 TOP/s, HDR capable Image Signal Processor (ISP) with IEEE 802.11 a/b/g/n/ac/ax Wi Fi & BT 5.0 module (ax is Optional), 10/100/1000 Mbps Ethernet PHY, MIPI-DSI, LVDS and HDMI Display support, MIPI CSI Camera support and GNSS Module. The i.MX 8M Plus SBC is aimed to offer for applications mainly focusing on Machine Learning, NPU and vision system, advanced multimedia and industrial automation with high performance. With the 100mm x 72mm Pico-ITX form factor, the SBC is packed with all the necessary on-board connectors.
CPU
i.MX 8M Plus Quad: 4 x Cortex-A53, 1 x Cortex-M7, GPU, VPU
i.MX 8M Plus Quad Lite: 4 x Cortex-A53, 1 x Cortex-M7 & GPU
i.MX 8M Plus Dual: 2 x Cortex-A53, 1 x Cortex-M7, GPU, VPU
Memory & Storage
LPDDR4 -2GB (Expandable up to 8GB)
eMMC Flash – 16GB (Expandable up to 256GB)
Micro SD Slot
HDMI Output through HDMI (Type A)
LVDS Display Connector x 1
3.5mm Audio IN/OUT Jack
Speaker Out Header
5.5inch MIPI DSI Display
2 Lane MIPI DSI Display (Optional)
MIPI CSI Camera Connector
Miscellaneous Interfaces
5.5inch MIPI DSI Display Debug UART Connector
RTC Battery Connector
JTAG Header
M.2 Connector Key B
PCIe 3.0 x 1
USB 2.0 x 1
Nano SIM Connecter
Expansion Connector Features
4 lane MIPI DSI x 1
UART x 1
8 bit SD (optional)
4 lane LVDS x 1 Channel
SPI x 1 Port
PWM x 1
CAN x1 Port
OS Support
Linux 5.4.70
General Features
Power Input:
7V to 24V
Operating Temperature: -40°C to +85°C
Form Factor:  100mm x 72mm
Environment Specification: REACH & RoHS3 Compliant
Network & Communication
Gigabit Ethernet x2 (Dual RJ45 Mag-jack Connector)
USB 3.0 x2 (Dual-stack Type-A Connector)
USB 2.0 OTG (micro AB Receptacle Connector)
IEEE 802.11 a/b/g/n/ac/ax Wi-Fi & BT 5.0 (ax is optional)
GNSS receiver Module -GPS/GLONASS/Galileo/ BeiDou RS232 Header x 1
USB Header x 1
CAN Header x 1
Audio/Video Features
HDMI Output through HDMI (Type A)
LVDS Display Connector x 1
3.5mm Audio IN/OUT Jack
Speaker Out Header
5.5inch MIPI DSI Display
2 Lane MIPI DSI Display (Optional)
MIPI CSI Camera Connector
Miscellaneous Interfaces
5.5inch MIPI DSI Display Debug UART Connector
RTC Battery Connector
JTAG Header
M.2 Connector Key B
PCIe 3.0 x 1
USB 2.0 x 1
Nano SIM Connecter
Expansion Connector Features
4 lane MIPI DSI x 1
UART x 1
8 bit SD (optional)
4 lane LVDS x 1 Channel
SPI x 1 Port
PWM x 1
CAN x1 Port
OS Support
Linux 5.4.70
General Features
Power Input:
7V to 24V
Operating Temperature:
-40°C to +85°C
Form Factor:
100mm x 72mm
Environment Specification:
REACH & RoHS3 Compliant
Eilyn Kadow
2022-11-06T19:33:47+01:00